Opening Hours
Monday – CLOSED
Tuesday – CLOSED
Wed– 9:00am – 5:00pm
Thurs – 9:00am – 5:00pm
Fri – 9:00am – 4:30pm
Our professional ear wax removal service in Ulverstone (near Devonport in Tasmania) offers a safe remedy for blocked and impacted ears. Since being founded by Lisa Hellwege in 2016, Earworx has become the go-to option for people seeking relief from excess and impacted wax. Using micro-suction, the Earworx clinic offers the same safe and gentle technique used by ENT specialists across Australia.
Our Friendly Team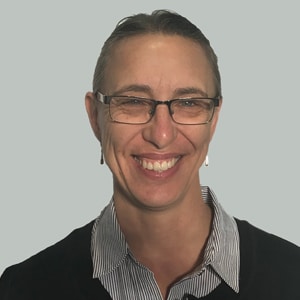 Earworx is a dedicated professional earwax removal service. Using dry and effective micro-suction technology under direct observation, wax is gently and safely removed by a qualified nurse. When you visit our clinic, you'll be treated by Dani Donegan.
Dani has extensive experience in aural health, thanks to her previous role working in the operating theatre at North West Regional Hospital (NWRH) where she specialised in Ear Nose and Throat (ENT) procedures. She has also held the position of Associate Nurse Unit Manager at the Royal Victorian Ear and Eye Hospital, as well as positions at St Vincent's Hospital in Melbourne and in Darwin Private Hospital.
She has been a strong advocate and supporter of patients undergoing treatment for head and neck cancer, such as laryngectomies. Her advocacy culminated in the establishment of the laryngectomy support group at NWRH.
Dani also volunteered on the Pacific Island Project run by the Royal Australasian College of Surgeons. She worked as a nurse on the ENT surgical team who provided much-needed operations to fill the gaps in the local medical system.
Her qualifications include a Certificate in General Nursing, a Bachelor of Nursing, a Postgraduate Certificate of Nursing Science (Perioperative Care) and more recently, a course in Aural Care Dani is an active member of a number of professional organisations, including:
Australian College of Operating Room Nurses
Australian College of Nursing
Tasmanian Operating Room Nurses
Otorhinolaryngology Head and Neck Nurses Group, for which she was the inaugural Tasmanian State Coordinator from 2013 to 2015
Australian and New Zealand Head and Neck Cancer Society
How the Procedure Works
The first part of the procedure will involve using a speculum to look into your ears. Ear wax is a healthy substance, and our nurses will only recommend wax removal should this be clinically indicated.
The next step involves using micro-suction and curettage to loosen and remove the wax. Earworx nurses wear binocular glasses fitted with a bright light throughout the procedure so they can maintain direct vision. The process is water-free, and you won't experience any irritation thanks to our revolutionary technique.
Pricing
Our qualified registered nurses use dry and effective micro suction to gently remove ear wax under direct observation. Our rates at our Launceston clinic are $135 per session or $105 if you are a Pensioner, Veteran, Health Care Card Holder, Child or Full Time Student. A reduced rate applies of $60 if no wax is found at all clinics. If a second appointment is necessary this appointment will be complimentary at all clinics. Please note we are a provider for St Lukes Health and Health Care Insurance (HCI). This fee is paid at the time of the appointment via debit / credit card.
We see children down to the age of 4 years. A discussion with Earworx staff is recommended prior to booking. For safety reasons children need to be able to follow direction and keep reasonably still.
Why Choose Us?
We offer a safe ear wax removal method:
Our nurses are qualified in both Aural Care and the micro-suction technique, meaning you'll be looked after by highly experienced and qualified nursing professionals.
Removal is all we do – this means we spend our entire day perfecting our craft.
As St Luke's Health recognised providers, you may be eligible for a rebate when you visit our clinic.
If you feel any itching in your ear or a sense of fullness, you may be suffering from excessive ear wax. Tinnitus, hearing loss, odour and pain are also common symptoms. Lifestyle factors such as stress, swimming and diving, earplug and headphone use, working in dusty environments and wearing hearing aids can increase the risk of suffering from an ear wax-related conditions.
On average 25,000 people in Tasmania suffer from impacted earwax. If you think you may be one of that number and you live in the Ulverstone area near Devonport, visit us as soon as possible and get your ears back to full health. No more fingers, cotton buds or home remedies – we have the answer.