Earworx is conveniently located within the Smithfield Central Doctors Practice. There are no external signs for Earworx but the Smithfield Doctors Practice is easily located between Lincraft and Anaconda.
Opening Hours
Mon – 9:30am – 4:30pm
Tues – CLOSED
Wed – CLOSED
Thurs – 9:30am – 4:30pm
Fri – 9:30am – 4:30pm
Looking for a professional and medically approved earwax removal service in Cairns?
Earworx, established in 2016 by Lisa Hellwege, sought to fill a gap in the market for safe and effective earwax removal as a stand-alone service. Lisa's intuition was confirmed as Earworx has since expanded to over 10 locations across three states.
Our Friendly Team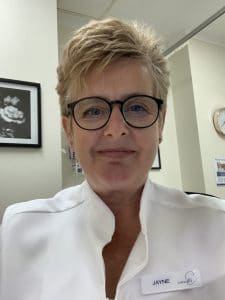 At our Smithfield Central Doctors clinic, located just above the Cairns City area, you will be treated by our nurse, Jayne Moore.
Jayne's extensive background in nursing covers multiple countries and decades. Certified as an RN in the UK in the mid-eighties, her education continued to include Coronary Care Nursing at Leeds University, a Certificate in Contemporary NZ Nursing Practice through EIT NZ and most recently an Immunisation Program in Toowoomba.
Jayne provides advanced nursing knowledge and clinical direction to health care providers across Cairns, the Hinterlands and Torres Strait Hospital and Health Services. She has been an integral part of providing immunisations across Cairns High Schools as well as primary health care to patients from infants to the elderly.
With over three decades of experience, Jayne is a stellar addition to the Earworx team and we are privileged to have such a compassionate and dedicated nurse treating our clients.
How the Earworx Procedure Works
The micro-suction techniques used by our qualified nurses are widely endorsed by ENT specialists as a safe and effective means to relieve discomfort from blocked ears. After assessing your ear canals to verify that wax removal is clinically indicated, our nurse will give you the chance to ask any questions you may have about the procedure.
Then, using special magnifying glasses equipped with a bright light, our nurse will carefully observe your ear canal while gently extracting excess wax with our micro-suction technology. To learn about our wax removal method in detail, you can find more information here.
Why You Might Need Earwax Removal
If you regularly swim or dive, use a hearing aid, work in a dusty environment, frequently wear earphones or attempt to clean your ears yourself at home, you are more likely to develop earwax impaction than the average person.
Look out for symptoms such as discomfort, tinnitus or muffled hearing to indicate whether you might need to pay a visit to your local Earworx clinic.
Pricing
Ear wax is removed for a flat rate of $120 in Cairns, and $95 concession for veterans, pensioners, health care card holders and children under 18 years Australia wide. If a second appointment is required this will be complimentary. This fee is paid at the time of the appointment via debit / credit card. This fee is partly rebatable through St Lukes Health or Health Care Insurance, depending on your level of cover. Please contact St Lukes or your Health Care Insurance provider directly to ascertain the amount of your health care fund rebate. If no wax is found in your ears at the time of your appointment, a reduced $60 rate applies.
Why Choose Us?
Not only is our micro-suction procedure effective at removing all excess wax but it even helps prevent symptoms from recurring.
The techniques used by our qualified nurses are endorsed by ENT specialists as the safest and most effective way to remove excess earwax.
Our earwax removal procedure is painless, gentle and can take as little as half an hour.
You do not need a referral to book an appointment at your local Earworx clinic, making it even easier to cure your uncomfortable or painful blocked ears today.