Opening Hours
Monday – 8:45am – 4:30pm
Tuesday – 8:45am – 4:30pm
Wednesday – Closed
Thursday – Closed
Friday – Closed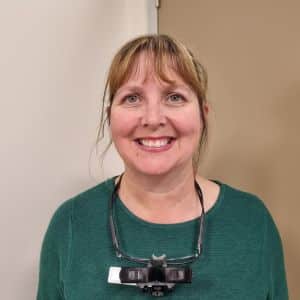 Natalie Veale
Natalie Veale has been working as a nurse for almost 30 years and has a broad range of experience across hospitals and clinics here and overseas. Originally from the UK, Natalie has gained valuable experience working across a diverse range of communities. She has worked in management roles and senior leadership positions within various organisations.
Natalie moved to Adelaide in 2003 and became Assistant Director of Nursing at Wakefield Hospital. Natalie's positivity, empathy and practicality make her a joy and an asset for the Earworx Adelaide CBD Clinic.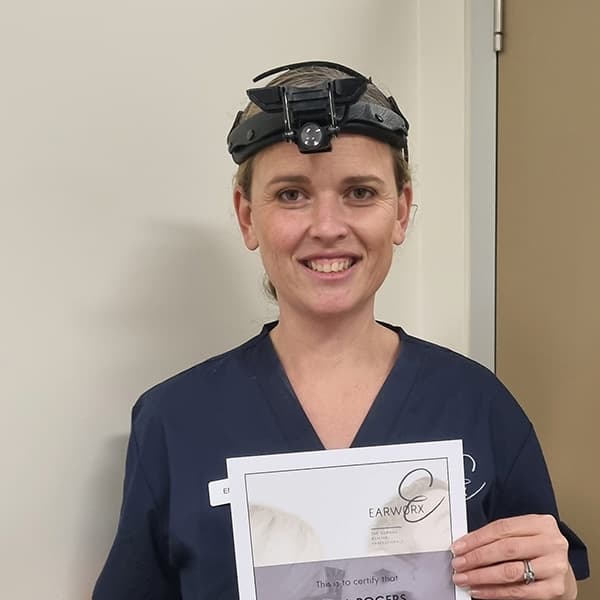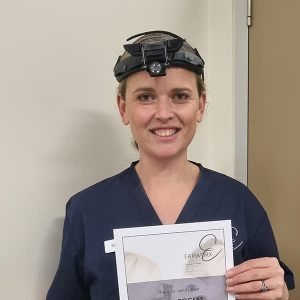 Emma Rogers
Emma is a dynamic and innovative Registered Nurse with a strong passion for excellence in patient care.
Emma's journey in nursing began with the Transition to Professional Practice Program at the Queen Elizabeth Hospital, where she gained diverse experience across various departments, Emma has worked as a Perioperative Registered Nurse and progressed to become the Associate Service Coordinator for several departments.
In these positions, she demonstrated her ability to effectively manage complex situations and equipment, ensuring the safe and efficient running of the theatre department and for best patient outcomes.
Emma's commitment to patient care extends beyond her clinical roles. As a Clinical Champion for Donate Life at Queen Elizabeth Hospital, she offered emotional and educational support to staff involved in organ procurement, showcasing her compassionate and empathetic nature.
With her exceptional interpersonal skills, Emma excels in explaining complex medical procedures in an understandable manner, making her an ideal nurse for Earworx's specialised ear wax removal services. Most recently, she has completed her Earworx Aural Care and Microsuction courses. Emma's innovative approach to nursing, combined with her dedication to patient-focused care, ensures that every client at Earworx receives the highest standard of service.
How the Earworx Procedure Works
Earwax plays an important role in ear health, but excess wax can cause problems. When wax builds up inside of the ear, it can become hard and impacted, resulting in multiple problems such as discomfort, pain, difficulty hearing and more.
The Earworx procedure is designed to remove earwax gently and safely, using the advanced microsuction technique that is used and recommended by Ear Nose and Throat specialists.
Our friendly Registered Nurses begin by examining the inside of your ear using 'loupes' that are specially designed binocular glasses that allow them to see inside of your ear canal. If they determine that you need one of our extraction procedures, they will continue to visualise your ear canal throughout to ensure we are taking care of your ears and removing the entire blockage.
Microsuction works like a tiny vacuum to remove excess wax out of the ear. It is a dry technique which is safe and extremely effective for removing earwax.
Why You Might Need Ear Wax Removal
Many people will require an earwax extraction during their life. Some of the reasons why you may suffer from excess or impacted earwax include:
Swimming and surfing
Using headphones
Using hearing aids
Working in dirty and dusty environments
Some people are also genetically predisposed to earwax impaction.
Why Choose Us?
Our Registered Nurses are qualified in ear health and safe, gentle ear wax removal
Our technique is recommended by doctors specialising in ear care
We provide an effective and fast solution to the discomfort caused by earwax impaction
Pricing
Our qualified registered nurses use dry and effective micro suction to gently remove ear wax under direct observation. Our rates are $145 per session or $115 if you are a Pensioner, Veteran, Health Care Card Holder, Child or Full Time Student. A reduced rate applies of $60 if no wax is found at all clinics. If a second appointment is necessary this appointment will be complimentary at all clinics. Please note we are a provider for St Lukes Health and Health Care Insurance (HCI).
We see children down to the age of 4 years. A discussion with Earworx staff is recommended prior to booking. For safety reasons children need to be able to follow direction and keep reasonably still.