Please note, our Woy Woy clinic is now closed but you can visit us at our Glendale clinic, Co located in H+ Consulting Suites Crossroads Medical Precinct, 334-342 Lake Rd Glendale, New South Wales, 2285.
Earworx is expanding its operations once again, this time into Woy Woy on the Central Coast of New South Wales. The opening of the Woy Woy clinic marks the sixth Earworx clinic in New South Wales.
Patients visiting Woy Woy will be looked after Michael Passalis. Michael is a compassionate Registered Nurse with over 2 years' experience in health care. Skilled in providing exceptional care to a diverse patient population, Michael joined Earworx from a role as a Registered Nurse at the Royal North Shore Hospital.
He is passionate about going the extra mile to ensure the health of all his patients, as well as providing education on all things to do with ears and managing earwax!
How Can I Make an Appointment?
Use our simple and easy online booking system to book your appointment today.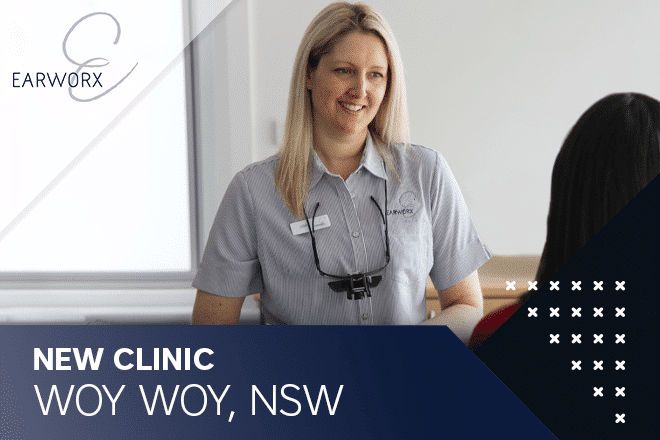 What's Involved in the Earworx Procedure?
Ears are naturally 'self-cleaning' and a small amount of earwax in the outer third of the ear canal forms a healthy barrier against infection, lubricates the ear canals, and captures and prevents dust and dirt from entering the ear.
However, it's possible to have too much of a good thing. When wax builds up and prevents needed assessment of the ear, or starts to lead to uncomfortable symptoms, wax removal is clinically indicated.
At our Woy Woy clinic, you will be seen by our qualified registered nurse, Michael, who will undertake a thorough history and examine your ears. If wax removal is clinically indicated, Michael will use micro-suction (like a tiny vacuum cleaner in your ear) and fine instruments to gently and safely remove excess wax; all within half an hour.
With special binoculars equipped with a bright light, known as 'loupes', Michael will be able to maintain direct vision into your ear canal during the entire procedure. Used by Ear, Nose and Throat specialists, micro-suction and the use of fine instruments is considered a safe and effective way to remove built up ear wax. When the solution is so straight-forward and easy, why suffer from the symptoms of excess earwax and blocked ears?
Symptoms of Built-Up Earwax
Ears blocked from excess amounts of wax can cause discomfort through symptoms such as itching, a feeling of fullness or blockage, earache, tinnitus, dizziness and even hearing loss.
Those who are particularly prone to suffering from built-up or impacted earwax are those who wear hearing aids or earplugs, frequently use earphones, regularly swim or dive, or have hairy, bendy or narrow ear canals. Aside from the use of softening drops, it is important not to attempt other 'home remedies' for removing earwax. Doing so can potentially push the wax further into the ear canal worsening symptoms or even causing permanent damage to hearing.
If you suspect you are suffering from built-up earwax and are experiencing any of the symptoms listed above, contact us for an appointment today.
Why Choose Us
At an Earworx clinic, you are in the safe and capable hands of a trained, qualified nurse that has daily experience in the safe and gentle wax removal procedure
If no wax is found in your ears at the time of your appointment, a reduced $60 rate applies.
Our nurses are specially trained. They complete both a period of study and an extended practical placement in order to learn how to conduct this delicate procedure
All Earworx protocols are based on the Updated Guidelines* on Cerumen (wax) Impaction; we provide evidence based care
The micro-suction procedure is effective at removing both impacted wax and debris related to ear infection, and is suitable for those with grommets or perforated ear drums (please do not soften prior)
* Schwartz et al 2017, Clinical Practice Guideline (Update): Earwax (Cerumen Impaction), Otolaryngology-Head and Neck Surgery Vol 156 (IS) SI-S29