Contact Us Today
About Earworx
Looking for professional earwax removal in Canberra?
In 2016, Lisa Hellwege founded Earworx with the goal of introducing effective and safe micro-suction technology to Tasmania, and now has expansion plans across Australia. Micro-suction is a technique used and endorsed by Ears Nose and Throat (ENT) specialists. It gently and safely removes impacted ear wax, providing you with clear and symptom free ears.
Our Friendly Team
South Canberra Clinic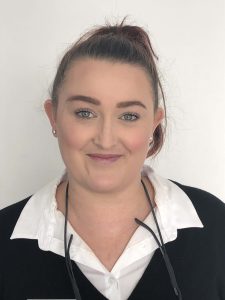 At our Wentworth Avenue Earworx clinic, you'll be treated by registered nurse, Jade Miles.
Highly dedicated and professional, Jade has previous experience with aging and dementia patients, as well as care planning and general nursing. Jade has also completed a comprehensive block of formal training in ear wax removal via microsuction.
Jade is a reliable and ethical healthcare provider with excellent time management skills. Jade enjoys building positive relationships with patients, family members, physicians and other allied health professionals.
Jade has recently moved to Canberra from Queensland with her husband and young family.
North Canberra Clinic
If you visit our Belconnen clinic, you'll be treated by our friendly, caring nurse, Samantha Stening.
With over 12 years' experience working in the health industry, Samantha has vast expertise in the provision of care to patients of all ages, from six-week-old infants, right through to people over the age of 90.
Samantha commenced her health career in the aged care field in 2007, and then later developed a passion for primary health working within a local Canberra GP clinic. Equipped with her extremely professional, friendly demeanour, Samantha joined the Earworx team in 2020.
Samantha holds a Bachelor of Nursing from the University of Southern Queensland and a professional registration with the Australian Health Practitioners Regulation Agency. She is also a member of the Australian Practice Nurse Association.
According to Samantha, "I am looking forward to developing a great rapport with my patients and providing the best possible experience for them that I can."
When Samantha is not in the Earworx clinic, you can find her bush walking and dining out with friends.
How the Earworx Procedure Works
Earwax is a naturally occurring substance that serves to protect and lubricate our ear canals, but too much of a good thing can lead to uncomfortable symptoms. This is where Earworx is here to help. When you visit our Canberra clinics, you will firstly be seen by a GP to assess your suitability for the procedure.
If wax removal is clinically indicated, one of our Earworx registered nurses will use curettage and micro-suction to gently remove the impacted wax from your ear canal. The nurse wears 'loupes' throughout the procedure, which are binocular glasses fitted with a bright light. This enables the nurse direct vision into your ear canal throughout the procedure, ensuring the safety of your ear drum and ear canal. The whole procedure is gentle, dry and quick.
Why You Need Earwax Removal
For the majority of the population, the ear cleans itself and manual wax removal is not required. If you've ever suffered from an ear blocked with wax however, you'll know how uncomfortable and disorienting it can be. Symptoms range from itchiness to tinnitus to hearing loss.
You may be particularly susceptible to earwax build-up if you wear hearing aids, earplugs, or earphones regularly or you're a swimmer or diver, work in dirty or dusty environments, or are genetically predisposed to producing excessive earwax. If you fall into any of these categories and are experiencing wax related symptoms, we recommend you book in for an assessment.
Pricing
Earworx is a dedicated professional earwax removal service. Using dry and effective micro suction technology under direct observation, wax is gently and safely removed by a qualified nurse.
View the price list here.
Why Choose Us
There are so many reasons you should book in an appointment with us today, including:
Our earwax removal technique is safe and reliable, and is the method preferred by ENT specialists
Earwax removal is our speciality –you can feel safe in the knowledge you are being treated by nurses who practice this as their core business
All our nurses are qualified in aural care and the micro-suction procedure, so you can rest assured that you are in the hands of highly-qualified and experienced nurses
Our technique ensures complete removal of the built-up wax so you don't have to worry about the problem recurring quickly as with other removal techniques