The Earworx team are delighted to announce the opening of our newest clinic in Kawana Waters, Queensland at the Kawana Waters Medical Centre. The Kawana Waters clinic is the third Earworx clinic to open in Queensland, located around the corner from Mooloolaba Beach along the Sunshine Coast.
The clinic will have the following operating hours:
Monday 08:45am – 4:45pm
Tuesday 08:45am – 5:15pm
Wednesday 8.45am – 4.45pm
Thursday 08:45am – 5:15pm
Friday 08:45am – 4:45pm
Patients visiting the Kawana Waters clinic will be in the safe and capable hands of our nurse, Keryn Meier. Keryn has over 25 years' experience in the health industry, which has equipped her with outstanding interpersonal and patient care skills. Her time working in nursing care means she is especially qualified assisting Earworx's older patients.
Keryn's personable and cheerful manner means her patients instantly feel at ease in her care, allowing them to ask questions freely.
Where Can I Find the Kawana Waters Clinic?
The clinic is located at:
Corner Nicklin Way and Kensington Drive
Minyama
QLD 4575
How Can I Make an Appointment?
Our online booking system makes organising an appointment with us a quick and easy process.
Otherwise, please feel free to contact us directly: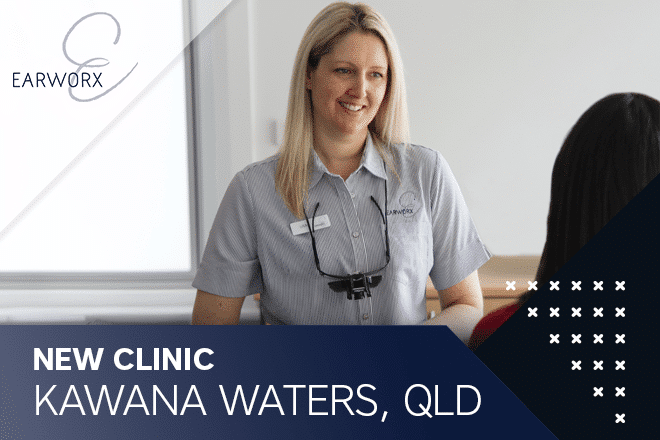 How the Earworx Procedure Works
At Earworx, our experienced and qualified nurses use micro-suction and curettage techniques to gently extract excess earwax from the ear canal. This method is the safest and most effective way to remove earwax, which is why it has been endorsed by Ears, Nose and Throat specialists across Australia.
When you visit our Kawana Waters clinic, Keryn will examine your ear canal uses 'loupes', which are magnifying glasses equipped with a bright light. The micro-suction procedure involves inserting a tiny catheter attached to suction tubing into your ear canal. Keryn is able to maintain a direct vision into your ear throughout in order to ensure the utmost safety. The micro-suction catheter very gently extracts excess wax like a miniature vacuum.
The procedure is both quick and painless, which means your appointment will take as little as half an hour.
Symptoms of Built-Up Earwax
Earwax removal may be the solution to symptoms such as dizziness, itching, pain, tinnitus, coughing, odour or even hearing loss. These uncomfortable symptoms can develop as a result of wearing earphones or a hearing aid, swimming or diving regularly, working in a dusty environment, suffering from stress or attempting at-home methods of earwax removal.
It is also possible to be genetically prone to producing excessive earwax or to have narrow, bendy or hairy ear canals that become more easily impacted with wax.
When eliminating your discomfort could be as easy as a half-hour appointment at your local Earworx clinic, there's no reason to delay your appointment another day.
Why Choose Us
Unlike other earwax removal methods, such as water syringing, the micro-suction technique is safe and suitable for those with diabetics, a depressed immune system, a perforated eardrum or those taking blood thinners.
Our nurses carry out our earwax removal procedures on a daily basis, giving them extensive experience making the process as safe and efficient as possible.
If no wax is found in your ears at the time of your appointment, a reduced $60 rate applies.