The Earworx team are excited to announce the opening of our new clinic in Indooroopilly, Queensland at the Indooroopilly General Practice. Located in central Indooroopilly, just five minutes from the train station, the clinic will be open from Wednesday 28 April 2021.
The Indooroopilly Earworx joins our other four Queensland locations in Cairns, Chermside, Kawana Waters and Kelvin Grove, and allows us to offer our professional earwax removal service to even more people across the state.
Patients at our Indooroopilly clinic will be treated by our compassionate Registered Nurse, Doone Parkinson. Doone places patient care at the centre of her work, aiming to maintain or improve the ear health of each individual through evidence based practice, implementation of the Earworx systemised and safe wax removal practices, and via patient education.
Prior to joining the Earworx team, Doone worked at an Aboriginal Health Service in Cape York as a Maternal and Child Health Nurse. Throughout her career, she has held gained a wide range of experience and expertise, particularly in midwifery roles in rural areas such as Tennant Creek, Darwin, Alice Springs, Narrabri, and Longreach. In addition, Doone has held roles in several major hospitals, from Manly Hospital in Sydney to the Royal Brisbane and Women's Hospital.
Doone holds a qualifications in general nursing, obstetric nursing, audiometry, midwifery, massage and reflexology, and has now added a qualification in aural care and extensive practical training in earwax removal techniques to her repertoire
Where Can I Find the Clinic?
We are located at:
Indooroopilly General Practice
Suite 5/66 Station Road
Indooroopilly QLD 4068
How Can I Make An Appointment?
You can book your appointment via our easy to use online booking system
Otherwise, feel free to contact us directly: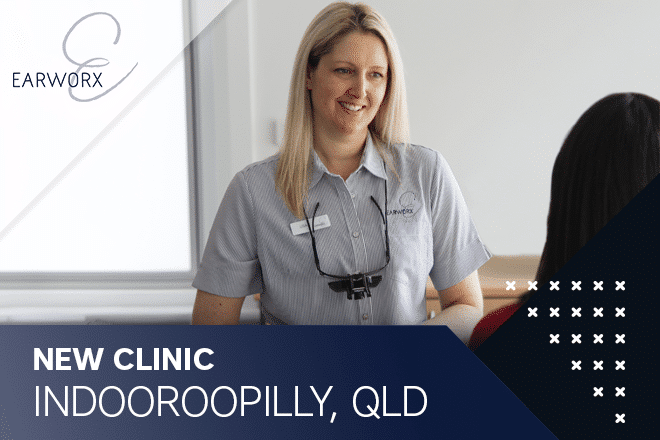 What's Involved in the Earworx Procedure?
Everyone produces earwax and it is an important substance that keeps our ears protected and helps prevent infection. However, sometimes we can have too much of a good thing. Wax that builds in the ear canal can become impacted and cause discomfort, pain and hearing loss.
When you visit our Indooroopilly Clinic, we will carefully assess your ears to determine if removal of earwax is clinically indicated. If you do require the procedure, our Earworx registered nurse Doone Parkinson will utilise the micro-suction technique used at all Earworx clinics to gently remove your excess earwax.
Micro-suction is a safe and gentle method which functions like a tiny vacuum to suction built-up wax out of your ear canal. With no water involved, the dry technique used at Earworx clinics is both comfortable and quick.
Symptoms of Excess Earwax
Is your hearing muffled? Is water becoming trapped in your ears after swimming? Do you wake up with a blocked ear which then clears over the morning only to block again overnight? You could be suffering from excess earwax.
Built up or impacted earwax can be extremely uncomfortable and even painful. Excess wax can result in itching, ringing in the ear, loss of hearing and dizziness.
Some of the common causes of excess earwax include wearing headphones or a hearing aid, spending a lot of time in dusty environments, regularly swimming or diving, and using cotton buds to try to clean the ear. You can also be predisposed to excess wax through genetics or the shape of your ear canals.
If you are suffering from excess earwax and experiencing some of these symptoms, it's important not to remove the earwax yourself. Manually removing earwax using cotton buds or your finger can push the wax further into the ear and worst case can cause permanent damage to your hearing. Book an appointment with us today so we can safely and effectively remove your built up earwax.
Why Choose Us
We offer a reliable and gentle earwax removal procedure
Our nurses are trained in micro-suction wax removal and are qualified in aural care
We carefully examine your ears so that all of the wax can be removed safely and gently, and education provided at the end.