Earworx are excited to announce that our new Queensland clinic has just opened in Chermside, Brisbane. This clinic is located in one of Brisbane's fastest developing suburbs, and we are looking forward to getting to know the Chermside community.
Our newest clinic has operating hours of 9am to 5pm, Monday to Wednesday. The clinic is on Gympie Rd in central Chermside, opposite the Westfield and adjacent to the Chermside Medical Centre.
New patients will be in good hands with our experienced nurse, Julie Alexander. Julie is a qualified and highly-skilled nurse with over fifteen years' experience working in healthcare. She has experience working with patients from all walks of life and is adept at assisting patients with a variety of needs through her previous work as a GP nurse.
Julie's kind and caring attitude means that patients always feel comfortable in her care, and she creates a positive environment for everyone visiting the clinic.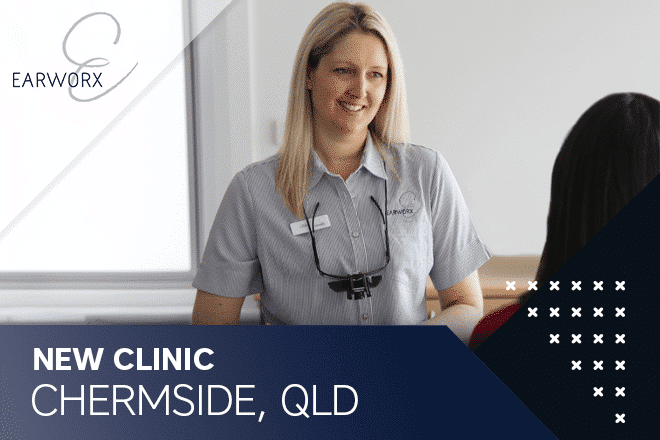 Where Can I Find The Clinic?
We are located at:
2/956 Gympie Rd, Chermside QLD 4032
How Can I Make An Appointment?
We have an easy online booking system to help you book an appointment at our new Chermside clinic.
You can also contact us directly via phone or email:
Phone: 1800 327 967
Email:
How The Earworx Procedure Works
Earworx clinics gently remove earwax using microsuction, a safe and effective method that is the preferred treatment option of Ear Nose and Throat specialists around Australia. This dry technique uses no water and is pain-free for the patient. It is also very effective, so you won't have to come back multiple times for subsequent removals.
When you visit the Chermside clinic, Julie will carefully examine your ear canal using 'loupes', or binocular glasses with a bright light attached. These give her greater visibility of your ears to keep your ear canal and ear drums safe during the procedure. If it is determined that there is a build-up of earwax, Julie will begin the micro-suction process, which extracts the impacted earwax through a suction tubing a bit like a vacuum. The process is repeated on both ears as necessary. It usually takes no longer than half an hour and is painless and completely safe.
How Do I Know If I Have Impacted Earwax?
Symptoms of excess earwax include your ears feeling blocked, itchiness or pain in the ear, tinnitus, and loss of hearing. It can be uncomfortable and even debilitating for patients. All of us have wax in our ears, which is important to keep them healthy by lubricating the ear canal and preventing infection. However, you can over-produce wax through activities such as swimming or diving, working in dirty and dusty environments, or wearing hearing aids or earphones for extended periods of time. It can also be a genetic predisposition.
Please don't try to remove excess wax yourself – at home methods can be dangerous and make your symptoms worse. If you're experiencing any of the symptoms listed above, book an appointment with us. If no wax is found in your ears at the time of your appointment, a reduced $60 rate applies.