Contact Us Today
Earworx Northern Clinic
Newstead Medical Centre
169 Elphin Rd, Newstead TAS 7250
Opening Hours
Monday – 9am–5pm
Tuesday – 9am–5pm
Wednesday – 9am–5pm
Thursday – 9am-5pm
Contact details:
Call: 1800 327 967
Email: dani@earworx.com.au

Earworx in Launceston offers the professional ear wax removal service you've been looking for – without the need for a referral! Lisa Hellwege founded the Earworx brand in 2016, through a desire to bring the safe and effective micro-suction technology to Tasmania. This is the same technique used by Ear Nose and Throat (ENT) specialists around Australia, and is a gentle and safe way to clear obstructed ears and remove impacted ear wax.
Our Friendly Team
Dani Donegan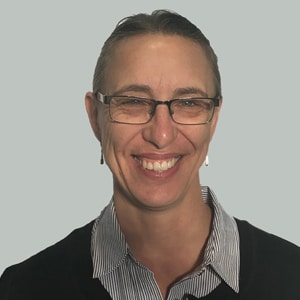 When you visit our clinic in Northern Tasmania, you'll be treated by Dani Donegan. Dani has over 25 years' experience as a Registered Nurse. Prior to joining the Earworx family, Dani worked in the operating theatre of the North West Regional Hospital (NWRH)—specialising in Ear Nose and Throat (ENT) procedures.
For many years, Dani has advocated for and helped patients undergoing treatment for head and neck cancer, particularly laryngectomy. With the opening of the new cancer centre at the NWRH, she worked closely with the Cancer Care Coordinator to establish a laryngectomy support group, which has now been active for 12 months.
Dani was previously the Associate Nurse Unit Manager at the Day Surgery Unit of The Royal Victorian Eye and Ear Hospital, worked in the operating theatres of the Darwin Private Hospital, and commenced her career as a Registered Nurse at St Vincents Hospital in Melbourne.
Dani holds a Postgraduate Certificate of Nursing Science (Perioperative Care), a Bachelor of Nursing, and a Certificate in General Nursing. She is also an active member of several professional nursing organisations, including:
Australian College of Operating Room Nurses
Tasmanian Operating Room Nurses
Otorhinolaryngology Head and Neck Nurses Group, for which she was the inaugural Tasmanian State Coordinator from 2013 to 2015
Australian and New Zealand Head and Neck Cancer Society
Australian College of Nursing
Tara King
A Registered Nurse, Tara King holds a Bachelor of Nursing from the University of Tasmania. Throughout her professional career, Tara has been based predominantly in Launceston, although she is originally from Tasmania's north-west coast.
In preparing for her role with Earworx, Tara completed nationally accredited units in aural care (as required by Earworx) to achieve best-practice and ensure the best possible level of care for all our patients.
Tara is passionate about helping clients manage their wax build up, and improve their general ear care. When she commenced with Earworx in early 2020, Tara was particularly surprised to discover the number of people who require the services of Earworx within the Launceston and surrounding areas.
Tara has a kind, compassionate, and understanding nature. Currently working at both the Launceston General Hospital and Earworx, Tara is committed to providing effective, professional care to all her patients.
Sharon Orchard
Sharon Orchard is a passionate registered nurse with a Bachelor of Nursing qualification and over twenty years of experience working in the healthcare sector.
During her nursing studies, Sharon was awarded accolades including the Dean's Roll of Excellence and the Vice Chancellor's Leadership Award. Her commitment to quality and precision shines through in everything she does, including in her role with Earworx.
Sharon is experienced in areas including aural care, emergency medicine, paediatric and geriatric care. She has worked for both the Tasmanian Health Service and St John Ambulance. Additionally, Sharon's love of people is reflected in her work as a volunteer for several organisations.
As a local of Newstead, Sharon loves working with the community and providing the highest quality of care to her patients. Her warm, compassionate nature makes everyone she works with feel at ease and cared for.
How the Earworx Procedure Works
Ear wax removal is only necessary if you are suffering from excess or impacted wax and is causing symptoms. As such, the first step in any procedure always entails a thorough examination of your ears and their overall health.
If you require cerumen removal, one of our registered nurses will wear 'loupes' or binocular glasses that feature a bright light. This ensures the nurse has direct vision into your ears throughout the procedure. The procedure makes use of both curettage and micro-suction techniques to gently remove wax blockages. As a result, you won't experience any pain—just an unblocked ear!
Why You Might Need the Earwax Removal
The symptoms of excess or impacted ear wax can be uncomfortable, ranging from itching and pain to a feeling of fullness, and even tinnitus and hearing loss.
Certain factors also make you more susceptible to impacted and excessive cerumen. If you wear hearing aids, use earplugs or headphones regularly, swim or dive regularly, work in dirty environments or have a family history of wax build-up we recommend you visit us for an appointment. It really works, and you'll be doing your ears a huge favour.
Pricing
Ear wax is removed for a flat rate of $110 in Tasmania, and $95 concession for veterans, pensioners and health care card holders Australia wide. If a second appointment is required this will be complimentary. This fee is paid at the time of the appointment via debit / credit card. This fee is partly rebatable through St Lukes Health (provider number A4001013) or Health Care Insurance depending on your level of cover. Please contact St Lukes or Health Care Insurance directly to ascertain the amount of your health care fund rebate. If no wax is found in your ears at the time of your appointment, a 50% reduced rate applies.
Why Choose Us?
Did you know that 1 in 20 adults and 1 in 10 children suffer from impacted or excessive ear wax? If you're one of that number, you need to see us because:
Micro-Suction is widely considered a safe and effective procedure for removing impacted wax, and our nurse at Newstead is specially trained in this technique
We are 100% committed to best practice in effective removal, so you know you're in good hands
As St Luke's Health recognised providers, you may be eligible for a health care rebate when you visit Earworx Newstead